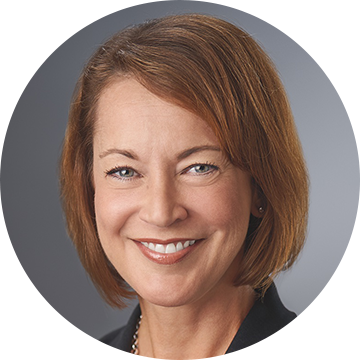 Amy Cradic
SVP and COO Non-Utility Businesses, Strategy and External Affairs, New Jersey Resources
Ms. Cradic joined New Jersey Resources (NJR) in February 2018. As Senior Vice President and Chief Operating Officer of Non-Utility Businesses, Strategy and External Affairs, she is responsible for providing leadership, management and vision to NJR Clean Energy Ventures, NJR Energy Services and NJR Midstream. She also oversees the company's Corporate Strategy, Government Affairs, Communications and Sustainability functions.
Before joining NJR, Ms. Cradic served the New Jersey Office of the Governor in several capacities, including as Senior Policy Advisor, Deputy Chief of Staff for Policy and Cabinet Liaison before becoming Chief of Staff to the Governor. During her tenure, Ms. Cradic was instrumental in balancing state budgets and delivering policy agendas in regulatory, governmental and political environments. Prior to that, Ms. Cradic served as Deputy Director and Assistant Commissioner for the New Jersey Department of Environmental Protection.
Ms. Cradic holds a bachelor's degree in journalism from The College of New Jersey, a master's degree in mass communication from New York University and is an alumnus of Harvard Business School's Advanced Management Program.
She currently serves on the Board of Governors for Hackensack Meridian School of Medicine at Seton Hall University, the New Jersey Future Board of Trustees and Executive Women of New Jersey. She is also a trustee for NJ chapter of The Nature Conservancy.