Cheniere's Response to Tariffs, the Energy Transition, and NAGF | Exclusive Interview
Our exclusive interview series continues with energy leader Christopher Smith, Senior Vice President for Policy, Government and Public Affairs at Cheniere. Prior to joining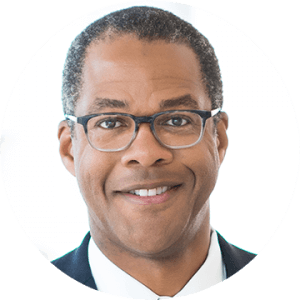 Cheniere, Mr. Smith was the Assistant Secretary for Fossil Energy at the U.S. Department of Energy, where he led the department's policy, international engagement, and research and development programs. We are honored to feature Christopher Smith as a speaker at this year's  North American Gas Forum, where global energy leaders will be making key decisions to move LNG forward.
To provide a glimpse into the caliber of discussion at the forum, we asked Christopher Smith to share his insight about current Cheniere projects, his organization's response to tariff wars, and topics that he will be presenting at NAGF this October in Washington D.C.
ED: How is Cheniere building a stable and sustainable platform for long-term economic growth in consideration of the energy transition?
CS: In the market, there is a lot of interest in tapping into U.S. gas supply to bring diversification of supply but also reliable, affordable energy to LNG importers. We know that the LNG market is growing. Cheniere has established a track record of being able to deliver these major projects on time and under budget. It's a competitive market, but I think we've been successful in establishing ourselves as a reliable player. Through our success in signing long-term sales and purchase agreements around the world, we've been able to demonstrate an attractive growth story.
ED: In response to the shale revolution and the abundant supply of natural gas, how is Cheniere ensuring efficiency, given all the moving parts involved?
CS: The natural gas story that we are going through now is one that most market participants would not have anticipated a decade ago. What we see now is an abundant resource, which we have demonstrated is going to be accessible at affordable rates. Natural gas is going to be accessible in a way that creates a high degree of certainty and reliability, and also ties the offtakers to something that's different from the volatile global oil market, which is how most LNG is priced.
Cheniere, right now, is the largest end-user of natural gas in the United States. We've established a major position in terms of being able to access the natural gas we need for our markets. It's our ability to reliably access natural gas domestically, and our ability to run our operations efficiently that's led us to be a premier international player in terms of supplying LNG to economies that need it.
It all comes back to the shale gas story and the shale gas revolution. The advancements that technology has brought in terms of reliably and safely accessing shale gas, producing it and taking it to consumers has produced positive results. That is a benefit for not only the U.S. economy, but also for companies that are transporting natural gas and drilling the wells, and for our customers internationally.
ED: China has excluded LNG from their tariff list and is currently the number two spot for LNG buyers in the world. Most recently, China has threatened to pose a 25% tariff on LNG exports. Can you tell us more about the current state of exporting LNG to China and how Cheniere is responding to the risk?
CS: We certainly don't like trade wars, but the bottom line for us is that we hope the U.S. and China can come through on a resolution on these issues. We continue to believe that LNG is a win-win between the United States and China. It's a key variable to help resolve the current trade disputes. We know that our business is beneficial for the U.S. economy. We create jobs here in the United States. This is good for balance of trade. It's an effective way for us to show U.S. influence through energy policy. It's also beneficial for our trading partners, including offtakers in China. Again, we continue to think the LNG we sell is a win-win for the U.S. and China, and it's going to be a key variable to help resolve this ongoing trade dispute.
ED: Are there currently any LNG projects underway that Cheniere would like to highlight to our readers?
CS: Cheniere operates in two places. We have facilities in Sabine Pass in Louisiana. Then we have a second facility at Corpus Christi in Texas. We've been the only recent major investment decision in the LNG market. Recently, Cheniere had the only final investment decision on a major expansion at our Corpus Christi facility in Texas, specifically on train three. I think what this demonstrates is that we're able to construct these projects on time and under budget; we're able to operate them with a very high level of reliability. Even in the hurricane season last year, we had no weather-related downtime. This is making us an attractive trading partner for offtakers. It allows us to continue making these major investments.
ED: Can you give readers a sneak peek into what you will be discussing at the North American Gas Forum this October in Washington D.C.?
CS: I'll talk about the big picture and the role that natural gas is going to play in the energy economy of the future. Specifically, I'll touch on the role that gas sourced from the United States is going to play in the evolving picture. There are a lot of attractive components to sourcing gas from North America. It's price diversification for one. Purchasers around the world will have access to U.S. domestic prices that come from the U.S. market from Henry Hub, as opposed to being exposed solely to a more volatile internationally-traded crude index. This provides diversity of supply for customers around the world who are interested in diversifying where their natural gas comes from, energy being a particularly important commodity in terms of imports.
I'll also highlight Cheniere's advancements on the environmental side, all of which help us ensure that we're capturing the benefits that come from natural gas, as an energy supply, for markets that are increasing electricity consumption.
ED: Any insight into what you believe will be the most controversial topic at this year's Forum?
CS: There is certainly going to be discussion around the international climate on trade and tariffs. That is a challenge for companies like ours. We make things out of steel, and what we sell is potentially the target of tariff actions. I'm sure that will be a topic of discussion. At the end of the day, we have a business model that works for the American economy and that works for our customers internationally. When you look at what we do at a business to business level, Cheniere's business model makes a lot of sense. I won't opine on how we're making predictions regarding how things will unfold internationally, but when it comes down to business fundamentals, we're positioning ourselves to make sure that we're successful in any sort of business climate. I'm sure that will be a topic that is discussed during the forum.

---
Hear insights firsthand from Christopher Smith and more of the energy world's senior leaders. Join in on dialogue with major players, while learning how both themselves and their partners are creating alliances within the current LNG market climate. All this and more at the North American Gas Forum – October 2018.
The North American Gas Forum is dedicated to bringing together an impressive line-up of industry decision makers from across the natural gas value chain. The forum will be held on October 14-16 in Washington D.C. Join us for high-level discussion and debate, with topics ranging from the future of energy, to LNG project advancements, and transitional requirements of the current infrastructure.
To learn more, and to reserve your spot, please visit: