Committed to our goal of stimulating forward progress within the energy industry, we offer our clients and members indispensable insights and expertise from international energy leaders representing all sectors—commercial, policy, and regulatory.
Our high-level forums, meetings, and roundtables are strategically planned to fuel debate, discussion, and information exchange. Our engagements are long-term, maximizing their value for all participants and distinguishing Energy Dialogues from other networking associations. In the exciting and conducive atmosphere of our events, new relationships are forged, partnerships become established, advocacy efforts find support, and myriad business opportunities arise.
Participating energy leaders and experts at all levels find hands-on solutions and stay at the forefront of industry developments, not only benefiting their businesses, but ultimately influencing global solutions amid ongoing energy transition.
OUR VISION
Energy Dialogues creates strategic opportunities for worldwide energy industry leaders to meet, converse, learn, and leverage available business insights and potentialities. We specialize in providing unique networking settings where executives can engage with peers, as well as with private governmental decision-makers, regarding energy policy and regulation.
Our tailored, high-level conferences and meetings consistently deliver stimulation, inspiration, and profitability potential, contributing to Energy Dialogue's reputation as the company of choice for network development.
OUR VALUES

Excellence and Trust
As part of our commitment to providing clients with the best networking functions possible, we design focused, content-rich, and innovative programs featuring eminent industry speakers and abundant opportunities for commercial networking. We strongly believe that in an increasingly virtual world, actual face-to-face interaction is irreplaceable in creating and maintaining mutually trusting, long-term business relationships.

Value Ensured
Knowing our clients' time away from the office is at a premium, we work to consistently deliver productive and advantageous business development opportunities. We customize our approach to each client's specific needs, working with them in advance of each meeting to ensure that their participation – whether as attendee, speaker, or sponsor – brings maximum return on their investment.

Passion for Knowledge, Service and Connections
Energy Dialogues is built on a strong and vital networking platform in the energy sector. Our commitment is to effectively connect our clients to industry leaders for enrichment and stimulation via access to the most timely and relevant shared information, perspectives, and business opportunities. We take the specific needs of each member seriously, continually striving to provide excellent customer service and support so that all participants have an unequivocally positive experience.

Strategic Partnerships
The competitive advantage of Energy Dialogues lies in our establishment of long-term relationships with our clients, as we continually endeavor to understand their unique business strategies and priorities. In this way, we can tailor our events to ensure maximum benefit to each participant through timely, focused content and collaborative opportunities.

Creativity and Innovation
In our current transitioning energy landscape, it is more vital than ever to incorporate a dynamic approach to remain at the cutting edge of industry developments. In the same way, our meetings and events reflect the importance of flexibility and innovation in planning, content, methods of delivery, and interaction settings for participants.
OUR LEADERSHIP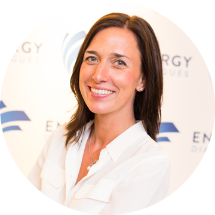 Monika R. SimõesFounder & CEO, Energy Dialogues Inc.
Monika's past and present career have involved partnering with industry and government to generate and maintain projects relating to the energy industry—projects which foster investment, drive development, encourage business growth, and build meaningful relationships across a broad range of industry areas. Monika's exceptional passion and talents are evidenced in her impressive track record of successfully transforming ambitious ideas into business realities and effectively connecting people via global networks.