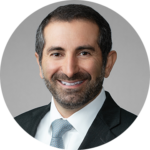 Diaco Aviki
Chief Operating Officer Crestwood Midstream LP
Diaco Aviki joined Crestwood Midstream Partners in 2017 as the Senior Vice President, Business Development and Commercial Operations for the Gathering and Processing Division, located in Houston, Texas.  In this role, Diaco leads Crestwood's business development activities and strategy development.  
Diaco began his career with Exxon in 1995, where he held various domestic and international positions in their downstream, chemicals, and gas marketing business units.  Diaco lead the gas marketing team involved with the commissioning of the ExxonMobil Golden Pass LNG Terminal where it set a global record for re-gassified LNG send-out prior to joining BHP Billiton.  At BHP Billiton, Diaco initially served as the Atlantic Basin Marketing Manager, integrating the shale acquisitions from Petrohawk and Chesapeake.
Prior to joining Crestwood, Diaco served as the President of various midstream assets at BHP and led their commercial efforts. Diaco has a B.S. in Chemical Engineering from Auburn University and has an M.B.A. in Finance from the University of Texas.  He is an advisory board member for the Engineering College and Chemical Engineering Department at Auburn University.  He and his family live in Fulshear, Texas.