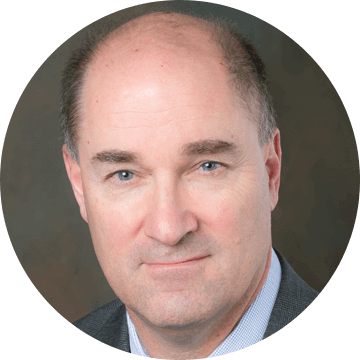 Michael Ross
Sr. Vice President - México, Kiewit Mexico
Mike Ross is senior vice president of Kiewit Energy Group and managing director of Kiewit Mexico. In his current role Mike has primary responsibility for Kiewit's operations in Mexico, as well as responsibility for Kiewit's Early Contractor Involvement Program which focuses on partnering Kiewit with its' customers and other engineering and construction firms to more effectively execute large projects.
From 2009 to 2014, Mike was president and district manager of Kiewit Power Engineers Co., part of Kiewit Corporation. In this role, Mike was responsible for providing leadership and direction for Kiewit Power Engineers "KPE". His position as president also included full profit/loss responsibility for the company, which provided the full spectrum of engineering services to a variety of customers in the power and energy markets throughout the United States, Canada, Mexico and Australia. During Mike's tenure, KPE grew from approximately 300 people in 2009 to nearly 1000 people at the time he moved to his current position.
Prior to joining Kiewit, Mike had more than 20 years of experience at TIC-The Industrial Company, a subsidiary of Kiewit Corporation, where he led various aspects of their business. He began his career at TIC as a pipefitter and since then has held numerous leadership positions including vice president and general counsel, vice president of business development, program director over TIC's largest single contract, and vice president of strategic growth.
Mike has been involved in a variety of industrial projects, including mining, gas treatment and compression, cement, ethanol, air separation, air quality control, LNG and power projects. In addition, Mike has been a strong advocate for the development and use of a variety of new designs, technologies and products focused on providing Kiewit customers with greater value. Mike was also heavily involved in TIC's adoption and use of the EPC method for delivering projects.
Prior to joining TIC/Kiewit, Mike acted as counsel for tax, labor and commercial civil litigation matters at Fulbright and Jaworski in Houston, Texas.
Mike holds a bachelor's degree from the University of Colorado at Boulder and a Juris Doctorate from the University of Notre Dame Law School.