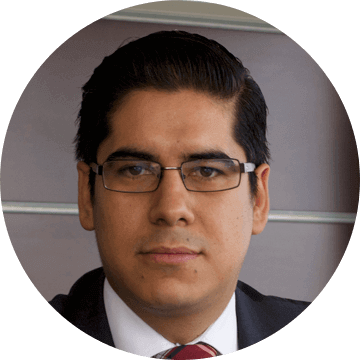 Emmanuel Espinoza Navarrete
Energy & Strategy Director, ProMéxico
Emmanuel Espinoza obtained his bachelor's degree in law from the Instituto Tecnológico y de Estudios Superiores de Monterrey (ITESM). Master in Strategic Foresight by the 'Escuela de Graduados en Administración Pública' (EGAP- ITESM) (EGAP-ITESM), where he graduated with the thesis "Intelligence Strategic Systems: Its complementary application with the Strategic Foresight and the indiscriminate use of the term: Case ProMexico". Its master's degree studies enriched with the Prospective Strategic Course that he studied at the Universidad de Deusto in Bilbao, Spain.
Emmanuel Espinoza has a certification in Planning and Strategic Management of Public Politics by ITESM.
Professionally, Emmanuel Espinoza has had the opportunity to develop research skills. From 2008 to 2009 he served as a research analyst at the Department Strategic Intelligence, EGAP-ITESM. From 2009 to 2011 he was Special Projects coordinator at the Ministry of Public Security of Nuevo Leon. During the same period, he collaborated as Coordinator of Mexico Platform and Particular Secretary of the General Director of the Center of Coordination, Control, Command, Communications and Computing of the State of Nuevo León. Developing their analytical and strategic planning skills, from 2011 to 2013 he served as Director of Analysis of information of the Intelligence Center for the State Security, Evaluation and Control of Confidence of the State of Nuevo Leon.
As part of ProMéxico, he performed as Project Coordinator of Prospective Analysis and Innovation of the Energy Sector in the Business Intelligence Unit.  From 2016, he is responsible for the Direction of Energy and sector strategy in the sectoral development Unit.